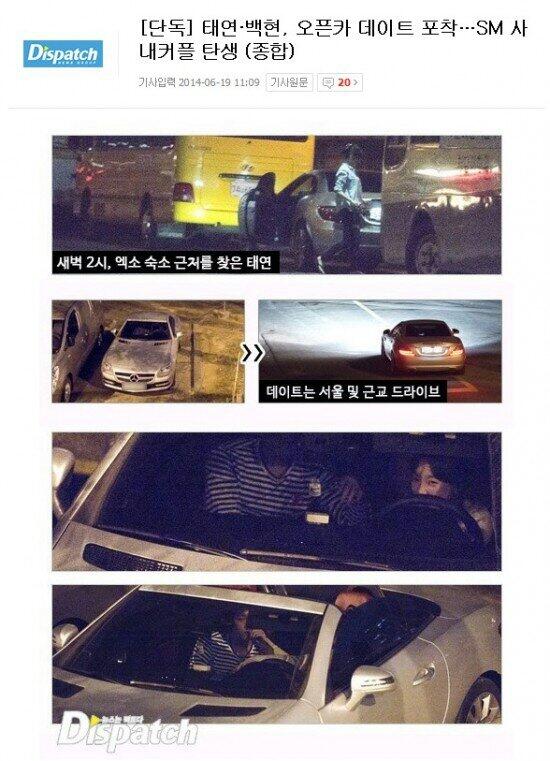 I'm fucking done. Cry an ocean. and sick.
Okay, today i take a day off from every schedule that i had.. i don't even know why. Then,i opened my twitter account that i'm not even touched for a month. And then..here they go, Taeyeon and Baekhyun dating news.
Dispatch said that Taeyeon picked up Baekhyun in his dorm at 2 am and went to a cafe. Some of fans in my timeline even said that they were kissing. hmm.. according to dispatch, Taeyeon and Baekhyun are dating for 4 months. 4 months curse, Khunfany get caught at their 4 months, Yoona-Seunggi either.
We are not even ready for another dating rumor. 4 members in a half year of 2014, that's totally hard. but, the reality is.. Sone is still here, standing with our full hearts for the girls, later.. we gonna forget how hard to accept the facts that they were already dating those guys, and light up the pink ocean.
You've must say that "Don't be sad and keep support taeyeon." or " Don't be like that." .. i know that a big bullshit of yours, you must have that freakin' shocked, random, sick, i-give-a-fuck, and gotta-cry-an-ocean feels. I say this way because i feel you guys. But as fans, we must support the leader.. uri kim taeyeon.. uri kid leader.. ,and feelin sad isn't prohibited.
I'm this trembling because i've no choice that Taeyeon was the next member instead of Jessica. I prepared my heart for Jessica's dating news,but it just not expected.
You can cry as much as you want. and for the peeps who are happy for this news, good for you. :)))))))((((
And Taeyeon, please cover up that "Be Alright" from Justin bieber for full version. That will make us better.