So Sones,i am back! and im finally got my turn to updated this blog. I was so freakin busy these days. 
Ok Sones,i want to bring some topics 'bout our girls. They are probably a grown up ladies right now. Who's not get a sudden heart disease after those dating news? probably i am not the one who's not. The 90's lines of GG, Sooyoung and Yoona.. they started this year with such a big impact. However, just let them be and wake up! , and i really dont give a f*ck to the some fans who left the fandom.
"Legend" ,a word that describes everything. KBS said, "Korea's legend girlgroup,Girls' Generation." Right now,its not a honour to called as a legend when actually they are trully a legend. They brought YTMA's video of the year to the dorm maaan! They won against Lady Gaga (i really love her),Justin Bieber (i adore him,tbh),and Miley Cyrus (i love her since hannah montana era! ). The girls were freakin beat 'em.
KBS Gayo Daejun '13
KBS put the legend in the bottom of their rundown of Gayo Daejun 2013. I tought it would be only in KBS,but.. SBS and MBC are SM's lol. We need to wait till the whole event and finally, there was our girls. Being a legend and treated as the one it's really make us proud of the girls.
Here we go, the divas were rock the stage!
TTS & EXO – Crazy in love ( SBS Gayo Daejun '13)

SBS Gayo Daejun '13

P.S there was something wrong with the cameraman.. i thought he was drunk-_-
And there was MBC which brought  a great stage for us. First, Tiffany's colab with Key of SHINee. Tiffany bang ma heeaaarttt, Oh My Goodness! She was gorgeous as usual. Second, IGAB performance with a freakin legend-like intro. They reminded the viewers 'bout soshi YTMA awarding.
Key feat. Tiffany – Bang Bang (MBC Gayo Daejun '13)

MBC Gayo Daejun '13

A few week back,there was Golden Disk Award 2013. After hard work from both of soshi and sones,the girls won popularity award (inkisang) and main award (bonsang). Congrats girls!
28th Golden Disk Award Inkisang
28th Golden Disk Award Bonsang
28th Golden Disk Award SNSD Full cut + MC Taeny
Sunny was there in Instagram having fun with sones during Golden Disk Award airing time lol. And not for so long after they received their bonsang, Jessica commented in her weibo:


Jessie,we are the one who instead congratulate you girl!
Besides Golden Disk Award, two days ago the girls attended on 23rd Seoul Music Award. Bonsang! We got Bonsang! and there was a heated up situation after the awarding event in Twitter among exo fandom. EXO got their Daesang in SMA,and there was Jessica didn't stand up to gave an applause to the hoobaes.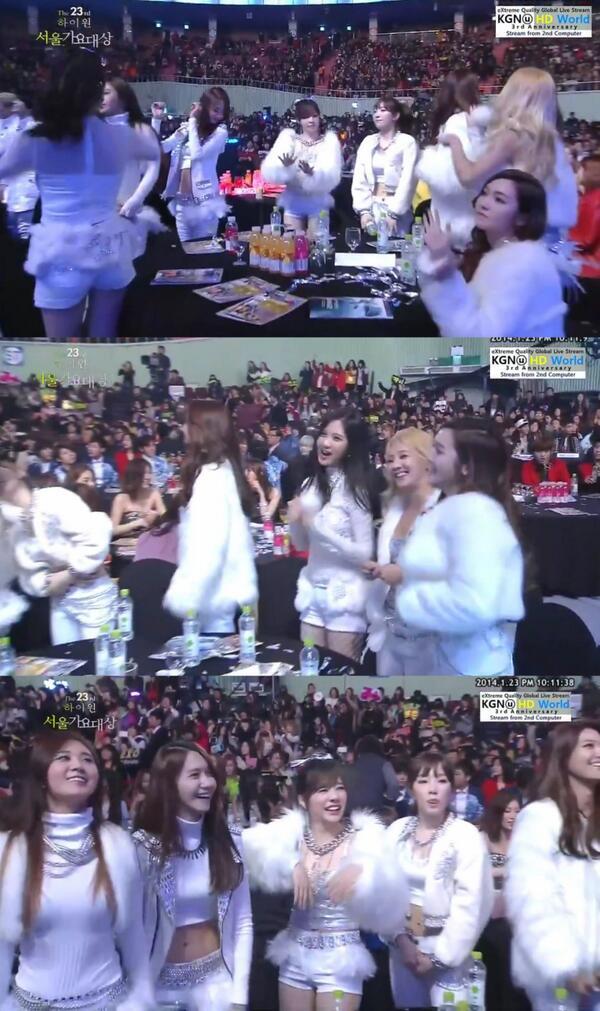 Look at sica's 'idgaf' face! It might be the reason why those exo stans were roaring. Guys,Jessica is a good girl after all! maybe she was tired back then. Btw,Jessica was playful during growl. Aside from jessica and exo thing missunderstood, TIffany was freakin fangirling over INFINITE's destiny. lol i am done with her!
23rd Seoul Music Award Bonsang
23rd Seoul Music Award IGAB Performance
23rd Seoul Music Award SNSD Full Cut
Enough with The legend topic,right now we switch into the girls' comeback rumour. Comeback! Taeyeon gave us hints for many times,so do the other girls, lets say Yuri,Sooyoung,and Tiffany. This 'Mr Mr' comeback rumour are spreading all over SNS. Remember about Marchen Fantasy concert? Wohooo Yes of course, Mr. Mr. Teaser.
A masculine concept? or the bad girl one?
Did they filming their MV in vegas?
Maybe something likes diamond things will appear there. Or Something like zodiac logos.
Mnet said they will have their comeback in 30th January 2014. Its 25th January already for ginger dog's sake… SM WHERE ARE THE TEASERS?
Lets see,what's the girls gonna shows us in this year? Comeback soon,i miss you girls.